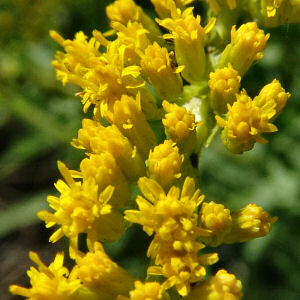 (image found online)

Goldenrod

On roadsides,
in fall fields,
in rumpy branches,
saffron and orange and pale gold,

in little towers,
soft as mash,
sneeze-bringers and seed-bearers,
full of bees and yellow beads and perfect flowerets

and orange butterflies.
I don't suppose
much notice comes of it, except for honey,
and how it heartens the heart with its


blank blaze.
I don't suppose anything loves it except, perhaps,
the rocky voids
filled by its dumb dazzle.

For myself,
I was just passing by, when the wind flared
and the blossoms rustled,
and the glittering pandemonium

leaned on me.
I was just minding my own business
when I found myself on their straw hillsides,
citron and butter-colored,

and was happy, and why not?
Are not the difficult labors of our lives
full of dark hours?
And what has consciousness come to anyway, so far,

that is better than these light-filled bodies?
All day
on their airy backbones
they toss in the wind,

they bend as though it was natural and godly to bend,
they rise in a stiff sweetness,
in the pure peace of giving
one's gold away.

~ Mary Oliver
(image found online)



To Autumn
by John Keats 1820

Season of mists and mellow fruitfulness,
Close bosom-friend of the maturing sun;
Conspiring with him how to load and bless
With fruit the vines that round the thatch-eves run;
To bend with apples the moss'd cottage-trees,
And fill all fruit with ripeness to the core;
To swell the gourd, and plump the hazel shells
With a sweet kernel; to set budding more,
And still more, later flowers for the bees,
Until they think warm days will never cease,
For Summer has o'er-brimm'd their clammy cells.


September
The golden-rod is yellow;
The corn is turning brown;
The trees in apple orchards
With fruit are bending down.
The gentian's bluest fringes
In dusty pods the milkweed
Its hidden silk has spun.
The sedges flaunt their harvest,
And asters by the brook-side
Make asters in the brook,
From dewy lanes at morning.
The grapes' sweet odors rise;
At noon the roads all flutter
By all these lovely tokens
With summer's best of weather,
And autumn's best of cheer.
But none of all this beauty
Which floods the earth and air
Which makes September fair.
'T is a thing which I remember;
To name it thrills me yet:

~Helen Hunt Jackson (1830-1885)



In the Days of the Golden Rod
by Lucy Maud Montgomery


Across the meadow in brooding shadow
I walk to drink of the autumn's wine­
The charm of story, the artist's glory,
To-day on these silvering hills is mine;
On height, in hollow, where'er I follow,
By mellow hillside and searing sod,
Its plumes uplifting, in light winds drifting,
I see the glimmer of golden-rod.
In this latest comer the vanished summer
Has left its sunshine the world to cheer,
And bids us remember in late September
What beauty mates with the passing year.
The days that are fleetest are still the sweetest,
And life is near to the heart of God,
And the peace of heaven to earth is given
In this wonderful time of the golden-rod.
(all photos taken on our hike near the Conestoga Lake this past Sunday,
unless otherwise indicated)